Submitted by Ashley Edwards on Fri, 03/04/2020 - 12:38
---
You may not be able to play your usual sport at the moment, but you can achieve that sense of community by lacing up the running shoes, and joining our supportive group to keep the motivation up!
A survey of the RunTogether community found 89% of runners reported increased happiness as a direct result of running with others in a group (https://runtogether.co.uk/about/archive-news/2017/11/1/run-yourself-happy-the-miracle-cure-improving-brits-mental-health/). So for those that are missing their running groups, how can you maintain the social connection that running may have brought?
Whilst it is now not possible to physically get together in running groups, the Sports Service has set up Strava Groups for University Staff, University Students and the Local Community. You don't have to be an existing member of a University running group to join or have a GPS watch either, you just need a smartphone!
Events will be set up through Strava for you to take part in. If childcare or work responsibilities means you need flexibiity with the time you run, then you can still join Strava and log your runs whenever you go! There will be links to running resources and members can upload images of their running routes as well as support and encourage other members of the online community, but don't forget, it's a strictly a work free zone! If you have any questions or require more information please email: run@sport.cam.ac.uk.
How to join one of the University Sports Service Online Running Community Groups. 
First you will need to download the strava App and set up an account, you do not need to subscribe, you can set up an account for free.



For google play please click here https://play.google.com/store/apps/details?id=com.strava&hl=en_GB



For Apple please click here https://apps.apple.com/us/app/strava-run-ride-swim/id426826309
Once logged in please click on View All Clubs

Once in Clubs please search for:
University of Cambridge (Staff) Runners

University of Cambridge (Students) Runners

Cambridge Sport (For Community users) 
eg.

Then click on Request to Join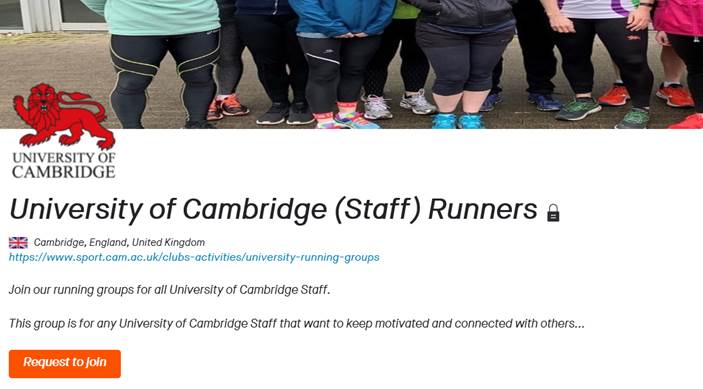 There are also some good online running communities out there on social media if you want to connect with others runners from across the UK. There are a few examples below:
You can view the government guidelines on exercise by clicking here.